Are you struggling to come up with kitchen cabinet design ideas for your home? Never fear! Today we're going to walk through the different types of kitchen cabinet designs and give some ideas for each style so you can decide which one is best for your home.
Types of Kitchen Cabinet Designs
There are three main types of kitchen cabinet designs—traditional, transitional, and contemporary. Traditional designs are marked by ornate detailing and often include decorative raised or recessed panels. Contemporary designs swing to the opposite end of the spectrum by embracing the minimalist slab style. And transitional designs provide a happy medium by featuring just a touch of detail, like the simple paneling of shaker cabinets.
Explore kitchen cabinet design types in more detail by visiting our Cabinet Door Styles page.
What Kitchen Cabinets are Most Popular?
The transitional shaker style design saw its rise to fame in 2020 and hasn't left the spotlight since. According to the 2022 Houzz Kitchen Trends Study, 64% of renovating homeowners chose shaker-style cabinets—an increase of eight points from the previous year. Based on what I've seen since this study was published, I don't expect the shaker's popularity to fall off anytime soon.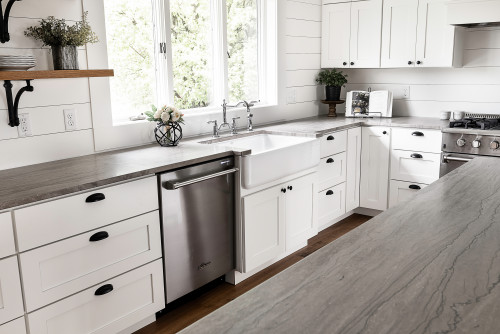 The secret to the shaker's success is its versatility; it works equally well with designs that trend towards traditional as it does with designs that trend towards contemporary. But, don't let herd mentality scare you away from the purely traditional or contemporary kitchen cabinet designs. We're here to find a kitchen cabinet design idea that works for your home, not someone else's.
Traditional Kitchen Cabinet Design Ideas
This traditional cherry kitchen I designed transports you straight to the Tuscan countryside. The cabinets feature beautifully detailed paneling that is also incorporated in the vent hood. The creamy tile backsplash is the perfect contrast to the darker cabinet stain and granite countertops. And for the finishing touch, we added mural-esque tile features above the stove and wine bar that, in my opinion, add something oh-so-special to the complete design.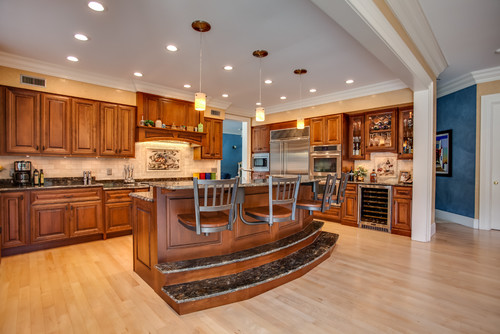 Transitional Kitchen Cabinet Design Ideas
Here is a classic use of shaker style cabinets in a transitional design. The gray shakers feel modern and fresh paired with white subway tile and black hardware, but also look effortless with the more traditional detailing of the island leg and crown molding along the top of the upper cabinets. The key to transitional kitchen designs is restrained detail, which this design nails perfectly.
Modern Kitchen Cabinet Design Ideas
This contemporary kitchen design illustrates how slab cabinets can become a neutral backdrop to let other design elements shine. In this kitchen, the natural wood countertop and backsplash immediately become the focal point. With no other details competing for attention, the geometrical light pendants also enjoy a limelight that they otherwise wouldn't find themselves in.
More Awesome Kitchen Cabinet Ideas
To get even more kitchen cabinet design ideas for your home, explore our Houzz project gallery. Afterward, we'd love to hear what ideas spoke to you! Fill out our contact form to let our design experts know what piqued your interest.
For more kitchen design inspiration, follow us on Pinterest and Instagram and like our Facebook page.